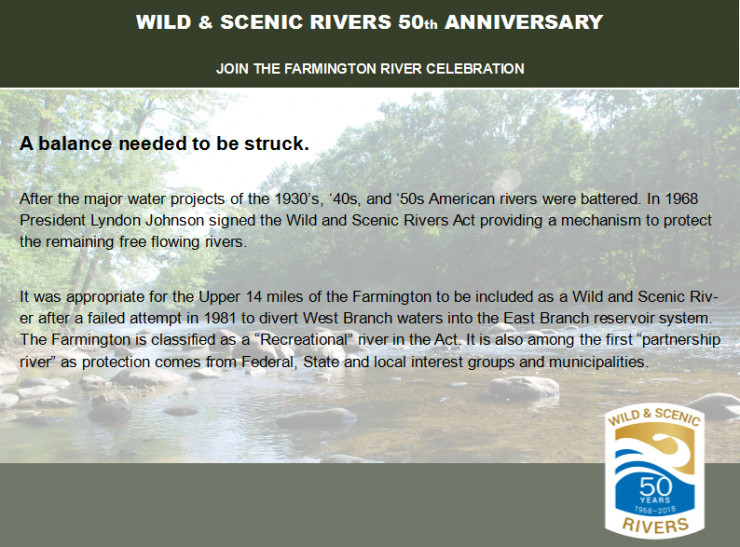 "Promoting the long-term protection of the Upper Farmington Wild and Scenic River"
In August 1994, Congress added 14 miles of the Farmington River's west branch to the National Wild and Scenic Rivers System. This exciting milestone in the river's history recognizes the Farmington's beauty and character and ensures that it will be enjoyed by generations to come. And there's so much to enjoy! Every year, thousands of people canoe, kayak and fish the waters of the Farmington and visit the state parks, forests and historic mills that dot the river's edge.
The river is also important habitat for wildlife, with otters raising families along its banks and bald eagles soaring above the water in search of a meal for their nestlings. In fact, the Farmington River Valley is currently the only place in Connecticut with nesting bald eagles. And soon, the Atlantic salmon may return to the river after an absence of decades. All these factors - recreational value, rare wildlife, outstanding fisheries, and a rich history - make the Farmington River a natural for inclusion in the National Wild and Scenic Rivers System.
The Farmington River is a Partnership W&S River - which means that local, state, and federal governments as well as other stakeholders in the river community are partners in river management and stewardship. This is a model that other eastern rivers have followed as they have put together management plans.
---